"Cats, never ever!"
This is the best explanation of someone who has spent many years loving and owning dogs. Training and showing them - also abroad - writing articles about them and last but not least, socializing and raising puppies and giving advice to the new owners.
It became quiet for a number of years. No shows, no litters, but blood is thicker than water. With buying a very wrong Jack Russell puppy named Aphra, the fun started. Please, understand me correctly, wrong in show capacities. On a daily basis Aphra ran to the neighbors and played with their cats. Did we need to buy a CAT?
Oh yes we did! The first cat came and pretty soon the next one was sure to follow. All kinds of books about (pedigree) cats were read. Also, our observations of the bunch gave us a lot of information. We were hooked on them. The love for cats was born but we also felt ashamed about the fact that we had been thinking about them in such negative way and for so long….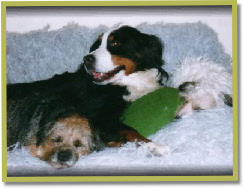 In spite of the differences in character between cats and dogs, the animals enjoyed each other's company and we loved them all. Our twelve-year-old Dachshund, that usually is THE cat-hater amongst the other dogs, became a sweet mom for the kittens, she took care of them as if they were her own puppies. For our Jack Russell, Aphra, it was just love at first sight. Mabel, our Bernese Mountain dog, loved that kitty stuff to death. Quite often the kittens were sleeping together with the dogs in their basket or was it the other way round? Even when the cats got older this nice atmosphere lingered on.
The blood started to run faster through our veins again. We definitely wanted a pedigree cat! Again the 'homework' was done and we spoke with cat lovers about two possible pedigree cats. Sake and Jellie de Haan: Thank you so much for your tremendously valuable gift. Thank you, René, for your support while alive and Esther Verhoef for the beautiful books you write.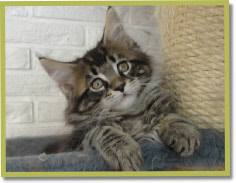 The first Coon 'Chersti' entered our household. Now, our Oriental girls ' Momo & Lene' are the latest of our bunch and will be the last ones for a while. In short, we are totally addicted.
Quite some years ago (1996) it was time to think about a cattery name. We've chosen the name 'ASANA' In India this word means 'Pedestal'. Is this not (secretly) the place where we put our animals on? In Yoga it's the central word for the 84 poses. Wouldn't we love to be just as athletic as a cat?..!
Are you curious? See the next pages where you'll find, among other things, some history and information about the character of the Maine Coon. A page concerning poisonous plants also belongs to this website but is still written in Dutch, sorry!
Hoe het begon /
How it all began
"KATTEN, dat nooit!"
Dat is wel de beste omschrijving van iemand die bijna een leven lang met honden in de weer is geweest. Variërend van trainen en showen - ook over de grenzen - het schrijven van artikelen en, last but not least, het begeleiden van zwangerschappen van het hondenvolkje. Belangrijk daarbij was het socialiseren en opvoeden van puppies en het met raad en daad bijstaan van de nieuwbakken baasjes en/of bazinnetjes.
Toch werd het een aantal jaren stil. Geen shows, geen nestjes, maar bloed kruipt waar het niet gaan kan. Met de aanschaf van een reuze fout Jack Russell teefje begon de pret. Begrijp me goed. Fout, qua showkwaliteit. Aphra, schoot dagelijks bij de buren door het katt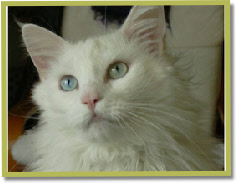 enluik en speelde met de buurkatten. Moest er dan een kat komen?
Ja hoor, de eerste kat kwam en al snel een tweede. Allerlei boeken met informatie over (ras)katten werden verslonden. Daarnaast gaf het observeren van het stel een schat aan informatie. We waren verkocht. De liefde voor katten was geboren, maar ook de schaamte, van al die jaren negatief denken over katten, kwam boven.
Ondanks de grote verschillen in gedrag en karakter tussen hond en kat, genoten de dieren van elkaar en wij van on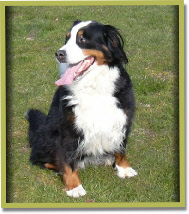 ze beestenboel. Onze 12 jarige teckel, een katten haatster ten top, ontfermde zich nota bene over de kittens, als ware het haar pups. Voor Aphra, de Jack, was het 'love at first sight'. Mabel, de Berner Sennen vond dat kattenspul machtig interessant. Regelmatig lagen de kittens tussen de honden te slapen of was het andersom? Dit sfeertje bleef, ook toen de katten ouder werden.
Het bloed begon weer te stromen. Er moest een raskat komen! Weer werd het 'huiswerk' gem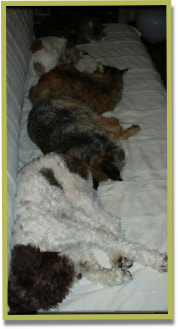 aakt en met kattenliefhebbers werd gesproken over twee, door ons geselecteerde, rassen. Sake en Jellie de Haan, dank voor jullie gift van onschatbare waarde. Esther Verhoef voor de prachtige boeken die je schrijft.
Het eerste Maine Coontje 'Chersti 'kwam. De Oriental grietjes Momo & Lene sluiten de rij. Kortom, we zijn totaal verslingerd.
Alweer een flink aantal jaren geleden (1996) was de aanvraag van een cattery naam aan de orde. De naam is 'ASANA' geworden. In India staat dit woord voor 'voetstuk'. Is dat niet waar we heimelijk onze dieren op plaatsen? In de Yoga staat het centraal voor de 84 houdingen. 'Zo lenig als een kat', zouden wij graag willen zijn. Ja, toch? Bent u nieuwsgierig geworden? Ga dan snel door naar de volgende pagina's, waar u behalve een beknopt stukje geschiedenis ook de karakter omschrijving van de Maine Coon aantreft. Een overzicht van giftige planten hoort ook bij deze homepage.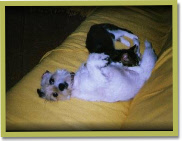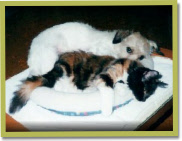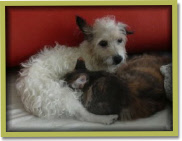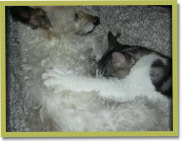 Jack Russell 'Aphra' met Bommel, Djara, Asana's Iskander & Asana's Idaline Idette