Er zijn plenty legenden omtrent het ontstaan van de Maine Coon. De Maine Coon zou, ten tijde van de Franse Revolutie, door Marie Antoinette vanuit Frankrijk naar Amerika zijn gebracht. De geschiedenis leert ons dat deze dame in het gevang belandde.
De Maine Coon zou ontstaan zijn in Maine, New England (VS), uit een kruising een halfwilde huiskat met een wasbeertje (raccoon). We weten inmiddels dat dit genetisch onmogelijk is.Waarschijnlijk heeft de Maine Coon zijn naam wel aan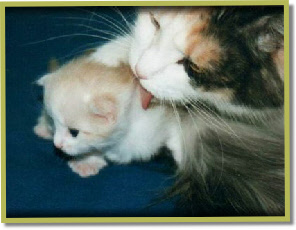 deze legende te danken.
Een wat aannemelijker gedachte is dat de Maine Coon ontstond door het kruisen van Amerikaanse korthaar huiskatten (al dan niet half wild) met Angora types, welke door de zeevaarders op hun reis naar de VS zijn meegenomen. Darwin's theorie: "The survival of the fittest" mag wel worden aangehaald, want het zorgde voor een natuurlijke selectie. Er ontstond een geharde kat die kon overleven in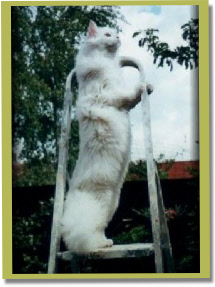 het gure klimaat.
De van origine Amerikaanse kat werd aanvankelijk voornamelijk gehouden op de boerderijen in Maine, waar hij aanzien genoot o.a. vanwege zijn jagers- capaciteit. Geen wonder dat de lokale boeren de Maine Coon voor het eerst showden op hun eigen kattenfair 'The Skowhegan fair' rond 1860, waar de titel: "Maine State Champion Cat" te behalen viel.
Uiteraard gaat de geschiedenis van de Maine Coon verder maar we laten het hierbij.
There are plenty of stories to choose from concerning the Maine Coon Cat's origin. Some say that Marie Antoinette brought the Maine Coon from France into the States during the French Revolution. History tells us that this was impossibl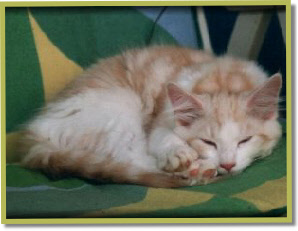 e since this lady was in prison during that time.
And some say that the Maine Coon originally came from Maine, New England (USA), out of a crossing of a half wild housecat with a raccoon. We already know that this is genetically impossible. It is most likely that thanks to this legend the Maine Coon got it's name.
A some what more reasonable thought is that the Maine Coon originated through a mixture of American shorthair domestic cats (half wild or not, maybe) with Angora typed cats. Which were brought into the St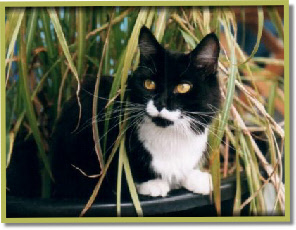 ates by seafarers on their voyage.
Darwin's theory: "The survival of the fittest" may probably be mentioned, since only the best of the breed survived. Mating to produce a hardy animal, capable of living in a cold harsh climate.
The of origin American cat was mainly kept on farms where he was respected because of his good hunting capacities. No wonder that the local farmers showed the Maine Coon for the first time at their own cat fair 'The Skowhegan Fair' 'round 1861 where the title 'Maine State Champion Cat' could be won.
Of course the history of the Maine Coon continues.