De Maine Coon behoort tot een van de oudste natuurrassen uit Noord-Amerika. Het is een halflangharige kat met een vrolijke persoonlijkheid. Hij is aanhankelijk, tolerant, en heeft een lief en zeer zacht karakter. De Coon is niet echt een schootjezitter alhoewel menig Asana Coontje het tegendeel bewijst.
De Coon is graag in de nabijheid en 'helpt' vol overgave in het huishouden. Hij is vriendelijk tegenover huisgenoten, maar wil nog wel eens terughoudend zijn tegenover vreemden.
De Maine Coon vertelt je wanneer hij iets wenst. Het typische zachte stemgeluid van dit ras is uniek. De Maine Coon speelt graag en houdt van rennen en klauteren. Een flinke krab- en klimpaal is dan ook zeker gewenst. De Coon is behoorlijk intelligent. Diverse Asana Coons apporteren speeltjes. Met andere katten is de verstandhouding meestal goed. Met honden kan een Coon goed overweg wanneer de kennismaking op jonge leeftijd plaatsvond.
De Maine Coon heeft alle punten van een typische jager. Hij heeft grote ogen en oren, essentieel voor het waarnemen van prooi en heeft een gespierd lichaam om de prooi te kunnen vangen. Als dier uit het, van origine, koude klimaat heeft hij een lange zijdeachtige vacht, kort over de kop en langer op de rug. buik, poten en kraag. Er is een zachte ondervacht bedekt met een ruigere waterbestendige bovenvacht om het dier droog te houden. De vacht mag niet van zijde zijn, zoals van Perzische types.
De Coon heeft een vacht die, meestal, gemakkelijk te onderhouden is. Normaliter is een wekelijkse borstelbeurt voldoende. Tweemaal per jaar, in voor- en najaar, heeft de vacht wat extra verzorging nodig vanwege de rui.
Een Coon kitten ontwikkelt zich traag. Het neemt 3 a 4 jaren eer hij is volgroeid. Ook al ziet men naar verloop van tijd een grotere kat, toch is het nog een baby. De Coon is een leven lang je - kittenbaby- kameraad.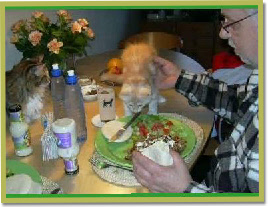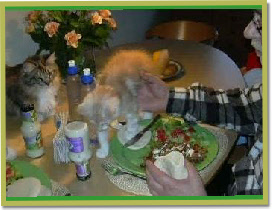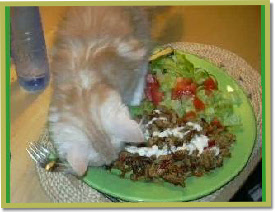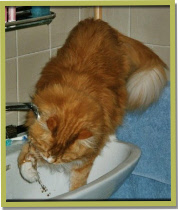 The Maine Coon is one of the oldest natural breed in North America. It is a semi-longhaired cat with an outgoing personality. It is affectionate, tolerant and it has a very soft character. The Coon is not really a 'lap cat', although many of the Asana Coons will prove the opposite.
The Coon loves to be close to you and 'helps' full of zest with the house chores. He is friendly with his own family members, but can be reserved towards strangers. The Maine Coon tells you when he wants something. The typical, soft voice of this breed is unique.
The Maine Coon loves to play and enjoys running. A large climbing- and scratching post is an absolute must. The Coon is rather intelligent. Quite a few of the Asana Coons retrieve toys. They get on fine with other cats, also with dogs if they have met at an early age.
The Maine Coon has all the characteristics of a typical hunter. He has large eyes and ears, essential for spotting prey and he has a muscular body to follow the prey. As an animal from an, originally, cold climate, he has a long coat. Short on the head and longer on the back, tummy, legs and collar. There is a soft undercoat, covered with a coarser water-resistant topcoat to keep the animal dry. The coat is not allowed to be silky, as with the Persians.
The Coon has a coat which normally is easy to be kept. A weekly good brush does usually the job. Twice a year, when moulting, the coat needs some extra attention.
A Coon kitten develops very slowly. It takes 3 to 4 years to maturity. And even if one sees a big cat after a while, it's still a baby. The Coon is your life-long 'kitten' friend.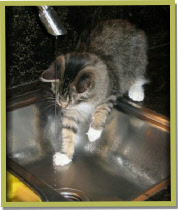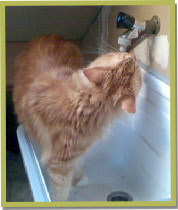 De meeste Coontjes houden van de kraan en wasbak.
Most Maine Coons love the tap and sink.