Hoera......'Lana' aka Hayca Helanne van de Vliegende Kiep is zojuist voor de derde en laatste keer probleemloos moeder geworden van zeven rakkertjes. Papa is Ch. Gillenias Quiz.
Als snel bleek dat Lana een motto voor deze bevalling in petto had: "Vooral kalm aan!" Iets waar ze zich uitstekend aan hield en zo werd de bevalling een lange adem voor ons. En wel van 28 april 2013, 07.30 uur tot 29 april, 08.50 uur toen het laatste manneke heel relaxed geboren werd. Lana wisselde tijdens het geheel een slokje af met een hapje, een knuffeltje, vervolgens werden buiten de pootjes gestrekt en oh ja, een pupgeboorte. Wat heeft dat grietje toch een humor! Lana geniet inmens van haar kroost!
Hurray.....Lana' aka Hayca Helanne van de Vliegende Kiep became a mom again for the third and last time. Dad is Ch.Gillenias Quiz.
Lana took her time in delivering this bunch. A little snack, a drink, a cuddle now and then combined with a walk outside and then pup delivery! This last thing one could easily forget, shuckle shuckle. Mom and kids are doing fine!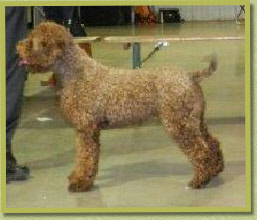 Hayca Helanne van de Vliegende Kiep
Showscores: Uitmuntend. Gezondheidsuitslagen:HD/ A; JE -/-; ED/ vrij
PRA /Cataract vrij (20 febr. 2013)
Lana heeft ook haar eigen pagina! Lana has her own page too!
Pups from Ch Gillenias Quiz & our Lana
Ch. Gillenias Quiz
Show titels:
Jeugd Winner 2012;
Nederlands jeugd Kampioen
Gezondheidsuitslagen
HD/ A; JE +/-; PRA /Cataract vrij
Asanova Fanna
Teefje / Female
Bruinschimmel / brown-white
Geboortegewicht, 274 gram
Gewicht na zes weken, 2740 gram
Weight at birth, 274 gram
Weight after six weeks , 2740 gram
Woont bij Vera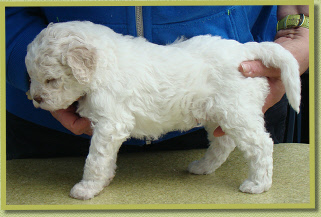 Asanova Ivrea
Teefje / Female
Wit met oranje platen/ white- orange
Geboortegewicht, 236 gram
Gewicht na zes weken, 2640 gram
Weight at birth, 236 gram
Weight after six weeks, 2640 gram
Woont bij Herman & Loes
Asanova Nusco
'Buffo'
Reutje / Male
Bruin-wit / brown-white
Geboortegewicht, 234 gram
Gewicht na zeven weken, 4090 gram
Weight at birth, 234 gram
Weight after seven weeks, 4090 gram
Woont bij Frans, Monique, Luuk & Ids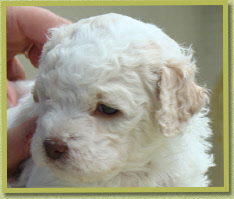 Asanova Baiso
Reutje / Male
Bruin-wit / brown-white
Geboortegewicht, 242 gram
Gewicht na zeven weken, 2630 gram
Weight at birth, 242 gram
Weight after six weeks, 2630 gram
Woont bij Pieter, Dorien & Josse
Asanova Sefro
Reutje / Male
Wit met oranje platen / white-orange
Geboortegewicht, 230 gram
Gewicht na zes weken, 2780 gram
Weight at birth, 230 gram
Weight after six weeks , 2780 gram
Woont bij Waldemar, Truus, Lan & David
Asanova Cabras
Reutje / Male
bruin-wit / brown-white
Geboortegewicht, 250 gram
Gewicht na zes weken, 2930 gram
Weight at birth, 250 gram
Weight after six weeks, 2930 gram
Woont bij Theo, Patricia, Eline, Martijn & Floor
Asanova Lamon
'Skip'
Reutje / Male
oranje met wit / orange with white
Geboortegewicht, 198 gram
Gewicht na zes weken 2280 gram
Weight at birth, 198 gram
Weight after six weeks, 2280 gram
Woont bij Menno, Jeanette & Scott






Foto's gemaakt op 15 6 2013
Pictures taken june 15. 2013