NB: Alle foto's zijn ons eigendom dwz dat u deze niet zomaar mag overnemen. Mocht u e.e.a. willen gebruiken neem dan contact met ons op.
Note: All pictures are our own. Please ask our permission incase you would like to use them.

Ch. Gillenias Quiz
Show titels:
Jeugd Winner 2012;
Nederlands jeugd Kampioen 2014
Gezondheidsuitslagen
HD/ A; JE +/-; PRA /Cataract vrij
Asanova Caprice
Showuitslagen:
Rotterdam 2014, 2 ZG
Lagottoclubmatch 2014, 3 Uitmuntend
Gezondheidsuitslagen,
HD/A, JE vrij, PRA/Cataract vrij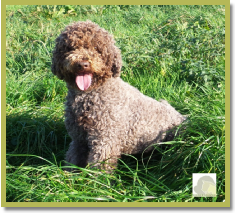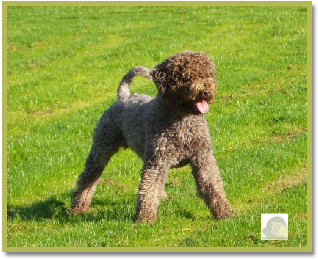 "Hurry up throw me the frisbee!"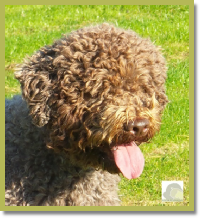 25 juni 2015 is Asanova Cassandra aka Caprice bevallen van haar eerste nestje!
Papa is Ch. Gillenius Quiz.
Na een lange aanloop beviel Caprice probleemloos van zeven puppies.
Het zijn drie reutjes en vier teefjes. Dat is aanzienlijk meer dan wij verwachtten!
Caprice is heel wijs en relaxed met haar puppies net alsof ze al volop ervaring heeft!
June 25, 2015. Asanova Cassandra aka Caprice gave birth to her first litter .
Papa is, Ch. Gillenias Quiz.
Caprice delivered seven puppies without any problem whatsoever. There are three males and four females, that is so much more then we expected!
Caprice is happy and relaxed with her puppies.
Photo's Quiz made by Asanova november 1. 2014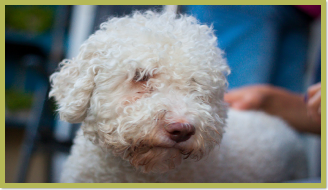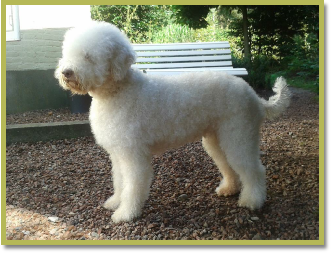 Asanova Cassandra aka Caprice
More about Caprice?
Click on her picture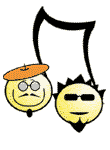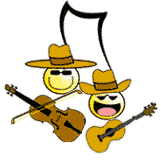 Asanova Narrante aka Gaio
Reutje : wit met oranje
Geboortegewicht, 298 gram
Gewicht na 6 weken, 3020 gram
Male, white with oranje
Weight at birth, 298 gram
Weight after the 6th week, 3020 gram
Woont bij Johan, Saskia, Britt & Quinn
Asanova Cadenza aka Beats
Teefje : bruin met wit
Geboortegewicht, 308 gram
Gewicht na 6 weken, 2510 gram
Female: brown with white
Weight at birth, 308 gram
Weight after the 6th week, 2510 gram
Woont bij Sam, Manon, Glenne, Finique & Azou
Asanova Novelette aka Lulu
Teefje : oranje
Geboortegewicht, 254 gram
Gewicht na 6 weken, 2690 gram
Female: orange
Weight at birth, 254 gram
Weight after the 6th week, 2690 gram
Woont bij Bob & Roline
Asanova Eroico aka Jeppe
Reutje : oranje met wit
Geboortegewicht, 310 gram
Gewicht na 6 weken, 3110 gram
Male : orange with white
Weight at birth, 310 gram
Weight after the 6th week, 3110 gram
Woont bij Peter, Joke, Esmee & Carlijn
Asanova Jazz
Teefje : bruin met wit
Geboortegewicht, 290 gram
Gewicht na 6 weken, 2660 gram
Female : brown with whie
Weight at birth, 290 gram
Weight after the 6th week, 2660 gram
Woont bij Mascha, Freek, Storm & Bink
Asanova Stanza
Reutje : oranje met wit
Geboortegewicht, 280 gram
Gewicht na 6 weken, 3120 gram
Male : orange with white
Weight at birth, 280 gram
Weight after the 6th week, 3120 gram
Woont bij Bas & Lilian
Asanova Sonate
Teefje : bruin met wit
Geboortegewicht, 264 gram
Gewicht na 6 weken 2970 gram
Female : brown with white
Weight at birth, 264 gram
Weight after the 6th week, 2970 gram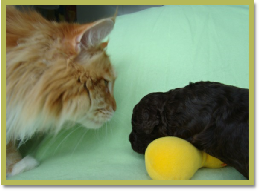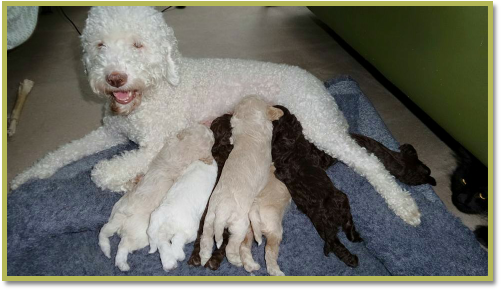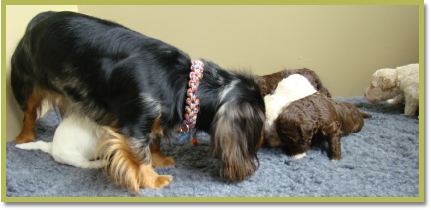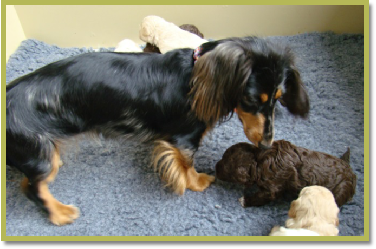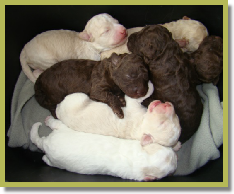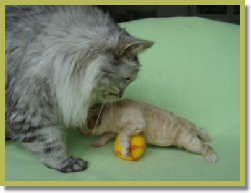 Fotografie: Noelle & Emily
Dank jullie wel